ENTERPRISE INFRASTRUCTURE
AND DATACENTER
Our services can accommodate diverse client requirements catered to fit their need
Network Infrastructure (LAN / Wireless LAN)
System Network Monitoring Tools
Hyper Converge Infrastructure (HCI)
Storage SAN Network Access Storage
What is Datacenter ?
A data center or data centre is a building, dedicated space within a building, or a group of buildings used to house computer systems and associated components, such as telecommunications and storage systems
Data Center Solution
Turnkey Solution
Project Management
Construction Management
Facilities Monitoring System
Facility Management
Data Center Equipment Solution
Environmental Control Equipment.

Environmental Monitors
Airflow Plans
Humidifiers
Air Cooling

Server Racks.
Redundant Power Sources.
Cable Management Supplies.
Computer & Network Equipment.
Products and Services
Electrical System
Cooling and Ventilation System
Fire Protection System
Security System
Architecture and Interior Design
DATA CENTER COMPONENTS
Typically Data center hardware includes
Core computing equipment such as
Desktops
Servers
Server racks
Network equipment including:
Routers
Switches
Modems
Firewalls
Cables
Storage resources such as:
Hard drives
Tape drives
Backup storage resources
Power and cooling infrastructure
(usually managed through HVAC software/system) including
Power generators
Cooling towers
Uninterrupted power supply system (UPS)
Other input/output devices such as
Printer
Keyboard
Mouse
Scanner

Hyper Converged Infrastructure ?

Hyper Converged Infrastructure – Conceptual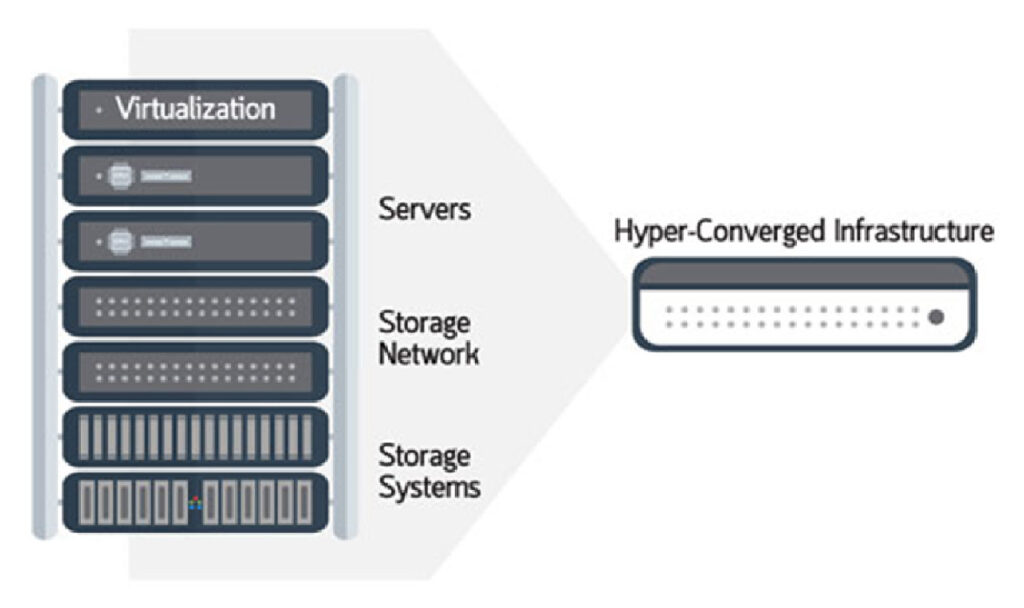 Why ? "Hyper Converged Infrastructure"
New Converge Infrastructure offering utilizing Software Defined Storage
Tight Integration of x86 Server for compute and storage, Networking and virtualization in all-in-one appliance packaging
Integration of hypervisors and physical infrastructure
Simple scale one unit/appliance at a time
Simple deployment measured in hours
Centralized management, intuitive UI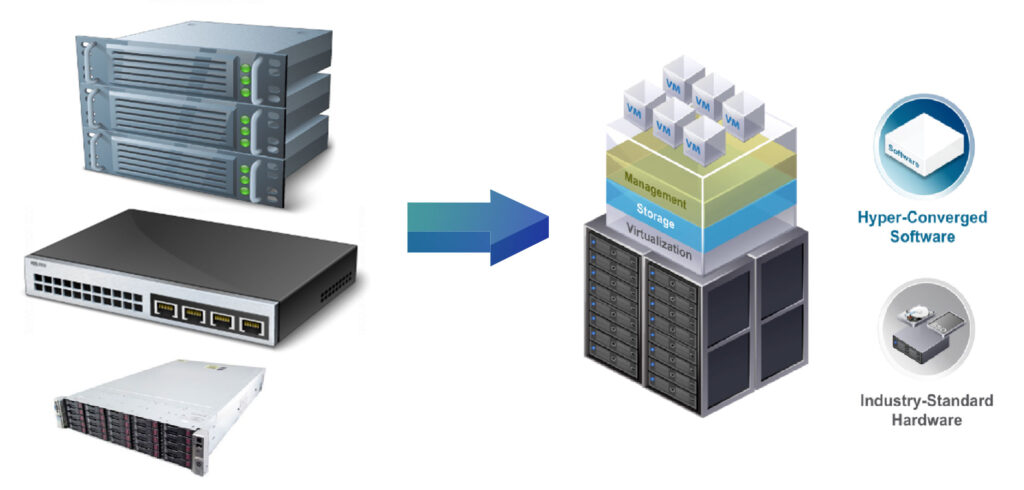 Hyper Converged Infrastructure - Summary
The advantages of HCI

Simplicity
Simplify Deployments & Operation
Increase Flexibility
Cost efficiency
More efficient and performance

HCI Use Cases

Consolidating the Datacenter
Deploy Virtual Desktop Infrastructure
Perform Testing and Development
Remote Management